Thursday 21 April 2016: Jefferson Highway between Linden and Horton, Missouri
Links to previous trips on the Jefferson Highway...
http://svobodakc.blogspot.com/2013/09/jefferson-highway-and-burnt-district.html
http://svobodakc.blogspot.com/2014/11/you-are-traveling-on-jefferson-highway.html
http://theotherroad66.blogspot.com/2015/08/jefferson-highway-in-jackson-county-and.html
Play this playist while you peruse this blog...
First.... CAWFEE!
http://headrushroasters.com/
Linden, Missouri
Gladstone, Missouri
I took what I think is the Jefferson Highway south out of Gladstone (Linden) down North Oak to the place where it turns southeast into North Kansas City, Missouri.
North Kansas City, Missouri
The Jefferson Highway makes a right hand turn as you head south at 14th Street.
Heading across the river on the Heart of America Bridge (1987) you pass the old Armor - Swift - Burlington Bridge, which the Heart of America replaced...
ASB Bridge
Exiting on Third Street, the River Market area of Kansas City is reached north of downtown. In this area the roadbed is shared with the new Kansas City streetcar. At third, a left turn is made on Grand, heading south into downtown.
East on 3rd
South on Grand
Downtown Kansas City, Missouri
Cross over the north part of the downtown loop on the Grand overpass
To follow the Jefferson Highway you need to make a left hand turn. The maps show Admiral as the left you need, however, Admiral at Grand is one way against you here, so a left is not possible. I go one block south and a couple of blocks east to make a left hand turn north then right on Admiral where it becomes a two way street, then east to the Paseo.
Continue south on Grand to East 8th Street
Turn east on 8th
Turn right on Admiral
Cross over the northeast part of the downtown Loop via the overpass, continue heading east on Admiral
The Paseo
was developed in the late 1800's as part of the
city beautiful movement
.
Kansas City Jazz Historic District
Kansas City -- City of Fountains...
National Old Trails Road
. Another spot is Broadway and Southwest Boulevard, which turns into what used to be known as the Kansas City Road -- an old military and trading route that became the father road for
US 69, US 169
, I-35 as well as the National Old Trails Road and the Jefferson Highway. The Kansas City Road for parts of it is the
Santa Fe Trail
, which is one of the trails of the National Old Trails Road. This intersection is where, I believe, the
Crossroads Arts District
of Kansas City Missouri gets its name.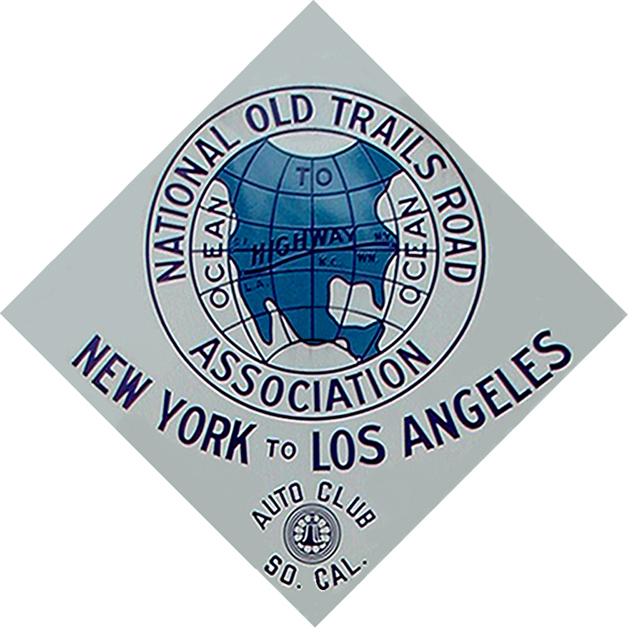 Jazz District
. In the days of segregation, 18th street was where African Americans went to shop and conduct important business as downtown was off limits to them. 12th Street and Vine was where a lot of clubs were. 12th and Broadway as well, but that was a place where African Americans could only play music for paying patrons. 17th and Highland, just off of where the Jazz district is today is where the music union for African Americans was, and
IS
. It is now called the
Mutual Musicians Foundation,
and every weekend after hours you can go and watch musicians play until the sun comes up. The Jefferson Highway runs from New Orleans to Winnipeg, Canada. New Orleans is the birth place of Jazz. Kansas City is the birthplace of Bebop, Kansas City swing and in many ways is the birth place of Rock -n Roll. Minneapolis/St Paul, also great musical heritage cities are on the Jefferson Highway as well. Winnipeg is the gateway city for the introduction of Jazz to Canada and to the world. It is not hard to imagine that Jazz traveled up the Jefferson Highway, was incubated in Kansas City and made it's way north and outward. For this, I like to think of the Jefferson Highway as the Jazz Highway, and it is not hard to imagine the markings for the Jefferson Highway to be used for the marquee sign for a big band playing Jazz to the world.
Negro Leagues
was founded and the
Negro Leagues Baseball Museum
is in the Jazz District
Buck O'Neil
.
US 40
, otherwise known as the
Victory Highway
.
East on 31st Street
googie
signs harken back to this roads days as a US Highway, before it was bypassed by
Interstate 70
in the 50's and 60's
Wild Woody's Happy Foods
is a googie grocery store found in a place that many businesses have forsaken.
Emanuel Cleaver II
Boulevard or Hardesty Avenue. North Stadium is the 3rd road as you approach from the west.
Stadium Drive becomes industrial as it heads southeast into Leeds. Frankly, this area has seen much better days.
Former Leeds General Motors Assembly Plant
Leeds
Stadium Drive crosses under the railroad bed just after the Leeds plant. This again is another interesting intersection. You have to turn right here, which is actually kind of a jog to the southeast on Raytown Road. After crossing under the railroad bridge, look across the street to another railroad overpass. That is the road bed for the
Rock Island Railroad
and is an interesting, if somewhat low, arched underpass.
The Rock Island overpass can be seen in this intersection shot. Stadium Drive continues under the overpass and leads to the Stadiums. This area can be congested during Royals or Chiefs games. To continue on the Jefferson Highway, make a jog to the right on Raytown Road, the road with beyond the Yield sign in this picture.
Raytown, Missouri
KATY Trail
in Windsor, Missouri. However, despite the promises that many home buyers hear from Real Estate agents, if you buy property that adjoins the old Rock Island, beware. You may have trains running through your back yard some day.
Raytown was a crossroads village that didn't really get incorporated until 1950. Fox's Drugs has a real life soda fountain and grill inside, so it is old school as far as that goes and a nice place to visit.
Intersection of East 63rd and Woodson, turn right on Woodson to head south about 2 blocks
Little Blue Road is a gently winding country road and is very pretty in the spring, summer and fall.
Noland Road south.
"downtown" Little Blue
As of my visit to this part of Jackson County, there is a detour due to some construction. Little Blue Road zigs southeast and intersects Lee's Summit Road at Truman Medical Center east, which is a really old hospital.
The detour is long. Detour signs always want to take you straight to an interstate highway, which I wanted to avoid, so I had to weedle my way around the airport.
Eventually I came via Colburn Road to Douglas avenue into Lee's Summit. Left on Douglas, which is the road with the detour, and south into Lee's Summit. Follow Little Blue road down, and careful not to take the y intersection east on Woods Chapel Road. Little Blue curves east and intersects Lee's Summit Road. Normally you would take a right on Lee's Summit, but these days it is blocked with no outlets as they are blocked too. So I had to take the detour straight on NW Gregory Boulevard which becomes NE Gregory which curves east into NE Woods Chapel Road. To avoid taking I-470, turn right on NE Ralph Powell Road which heads south by the east side of Lee's Summit airport. South of 83rd Street, NE Ralph Powell Road becomes NE Independence Avenue. Take this south to NE Colburn Road, turn right on Colburn to Douglas Road to resume traveling on the Jefferson Highway. Take that left (south) into Lee's Summit.
Lee's Summit, Missouri
Take Douglas Road south into Lee's Summit. Look for the Jefferson Highway signs. There is one north of downtown.
Take Douglas Road south to SE Second street. Downtown Lee's Summit is a nice place to get out, walk around and visit. Jefferson Highway actually goes around downtown. Take 2nd Street Southwest under the UP (MoPac) tracks (which serves Amtrak). The depot is a great place to train watch. It is one block SE of 2nd on Main.
2nd Street runs southwest under the tracks, then 3 blocks to Southwest Jefferson Street. The name is a dead giveaway. Also, about a block after the turn is a Jefferson Highway sign.
Jefferson Street heads southeast past the west side of downtown Lee's Summit and makes a jog to the right. You cross over the US 50/Mo 291 Overpass and get ready to make a left hand turn right after that. There are lights at both ends of the overpass.
In the State of Nevada, US 50 is known as "the Lonliest Road in America."
Some of the predecessor roads are the Lincoln Highway....
The Midland Trail....
and the National Old Trails Road...
After the overpass, turn right then immediately jog left to head south on Jefferson Street.
Here you will approach an old train station stop known as South Lea. Here is a link to a flickr river that includes some information on South Lea...
...annnnd again, another detour....
I had to detour one turn north of where I needed to turn. I turned left on Southwest Scherer road, then right on MO 291.
Detour at South Lea....
Southbound on MO 291
When you enter Cass County, MO 291 narrows from a 4 lane divided highway to a 2 lane road at the town of Lake Winnebago.
You follow this course south until East 215th Street, where you turn left.
South on MO 291 to East 215th Street...
Turn east (left) on East 215th street, then turn right on South Home Farm Road and go south.
Turn off at S. Home Farm Road from East 215th Street. You take this course for the purpose of staying as true a possible to the original highway. However, in all reality, there isn't much point to taking this little detour, and you can continue going south on Mo 291 if you really want to.
South Home Farm Road goes south and intersects back with MO 291. Careful crossing back onto the highway here as the cars are going highway speed and at certain times of day it is quite busy. You have to yield to oncoming traffic.
You take MO 291 South to East 225th Street. Don't bypass this, as this will take you to the Jefferson Highway access into Harrisonville.
Turn left to head east on East 225th Street from MO 291.
East 225th Street takes you to a T-intersection, with a definitely recognizable name on the cross street. Turn right and head south on South Jefferson Parkway.
Jefferson Parkway and East 225th street in Cass County, Missouri.
Southbound on South Jefferson Parkway.
As if you weren't really sure if you were on the alignment of the old Jefferson Highway, somebody has considerately given you another sign to go by...
This sign is at Waters Street and South Jefferson Parkway. Harrisonville, Missouri is another town that hasn't forgotten the old road.
Continue heading south on South Jefferson Parkway into Harrisonville, Missouri.
Harrisonville, Missouri
North Independence curves to the south and heads into town. At the curve, before you cross the Missouri North Arkansas Railway tracks, there is a stop you want to make if you have the time, over on the left. You will not see it as you head south, so pull into the little parking lot and get out to take pictures of the mural. Please be respectful as it is private property.
Jefferson Highway mural in north Harrisonville, Missouri.
After a while, it was time to head further south into Harrisonville.
The Jefferson Highway follows along the west side of the fine downtown square in Harrisonville, Missouri. However, on this day, I found the third detour of the day.
Harrisonville Missouri downtown Square.
When there isn't a detour, go ahead and "wind the clock."
Cass County Missouri Courthouse
I had to detour one block west of downtown to get south. There was, but I am not sure if there still is a Jefferson Highway marker at the corner of Independence Street and Mechanic. The construction may have removed or destroyed the sign.
North Independence Street becomes South Independence stret
Another Jefferson Highway Marker in Harrisonville, Missouri.
Take South Independence Street to Orchard Road. Here you will find another Jefferson Highway sign leading the way. Jog right onto Orchard and it will take you southeast out of Harrisonville, Missouri.
Orchard Road eventually turns to the south and intersects with E275th Street/Missouri 7 highway.
Turn Left on Missouri 7.
Here is the first place you will find yourself taking an interstate highway south. I-49 is a descendent road to the Jefferson Highway. It has, in recent years become an interstate. It evolved into an interstate highway from US 71.
It is a rather incomplete and broken up interstate road....
I-49 South
You take I-49 south to the exit ramp for East 307th street. Take a right on the outer road to head south from here.
Now occurs an interesting problem, which is not the last time I run into this one. When the map was drawn, I don't know when, I-49 was US 71. Since US 71 became an interstate, access across the highway became blocked, being that interstates are limited access. So that means that where the Jefferson Highway switches from the east outer road to the west outer road in this case, then there is no good way to get there, except by detour, which can be a rather lengthy affair. So please bear in mind these variances from the path until a better map can be drawn. In such cases, it is probably better to stay on the interstate.
First of several interstate detours...
I ended up taking E 335th street east, which is a gravel farm road.
That took me to T-highway south. I went through the small community of Austin, Missouri
I followed T-Highway to E 347th Street (route B) and turned left to head west back towards the highway... I crossed over the south Grand River and Under I-49 and found myself in Archie, Missouri. I backtracked back up the old US 71 highway to be a "purist" and not miss any part of the Jefferson Highway on my map. In the future, my "purist" tendencies waned with lack of time and patience...
Archie, Missouri
Backtracking up old US 71.
I came to where the crossover should be and turned around. I realized if I had looked ahead on my map as I was heading south previously there was an overpass I could have taken.
Interesting sign in north Archie, Missouri.
Remains of Old US 71 through Archie, Missouri.
Downtown Archie, Missouri
Heading south into Archie, you take Old US Highway 71 to East Maple Street. Turn right to head west on East Maple. Take it easy through here as it is residential with lots of kids playing in the streets. Turn left to head south on North Truman Road. Then Turn Left to head west on High School Avenue. Finally, turn Left on South Main Street, pass through downtown and head south. Here you will find yourself on a gravel road.
I absent mindedly turned right on East Pine, and had to turn around to get back on the Jefferson Highway, which isn't much of a highway here. I think here you will get a taste of what the old auto trails were like as the road is gravel and dirt.
Jefferson Highway heading south out of Archie. Not much has changed in a hundred years.
One of the railroad crossovers at East 355th street south of Archie, Missouri.
Let's emphasize the trail part of the term auto trail. Hard to think of this as a highway...
You take South Main south to County Road NW 16502, and make a left turn to head west.
County Road NW 16502 turns south before intersecting Highway AA. Turn right to head east. It is good to get off the gravel for a little while.
Somewhere around here we have crossed over into Bates County, Missouri
Bates County, Missouri
Heading East on AA highway.
The trip on paved road was short lived. Now you have to make a right hand turn to head south on NW 1001 Road.
Heading south on NW 1001 Road into Adrian, Missouri
Adrian, Missouri
20160421 Thursday